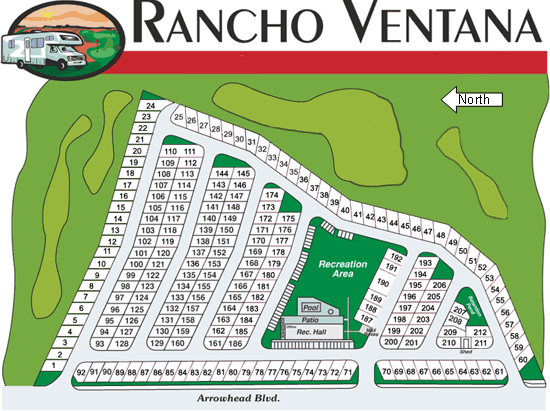 Lots For Sale
(Typical Lot sizes are 33' x 58')
If you would like to list your lot for sale, please download and complete the form below and email it to ranchoventanarv@gmail.com
Lot Sales Listing Form in MSWord
Lot Sales Listing Form in Adobe
All prices in US Dollars unless otherwise noted

Return to Home Page
Lot No.
Amenities
Price
Contact Info
Expires
108
Concrete pad, landscaped, storage building w washer and dryer, brick patio space
$28,000
Rosemary Lucius rosemary@advantageinsuranceservices.com 250-569-7269 or 888-611-5557
May 16/19
112
Very private, lot, close to golf course exit. Concrete pad, insulated shed, bar fridge, freezer, patio furniture and shelving
$19,500
Pat or Alex Fotheringham
trishia_2001ca@yahoo.com
250-558-8840
June 6/19
5
Lot with large 12x20 screened in room + shed. Very private backyard overlooking the 13th fairway
$25000
Barry or Judy Henderson
bhenders10@hotmail.com
250-830-1400
Mar 15/20
166
5th Wheel on lot with pavers and finished shed with Freezer, washer and dryer. Includes all contents.
$32,000
Ron Bjur
angleseven@onlinenw.com
503-329-6600
July 8/19
117
Lot with cement pad, pavers. 8x 12 shed with elect, water, sewer, washer, dryer, fridge and freezer.
$20,000 OBO
Mike Marlahan
530-598-2143
Sep 9/19
139
R
V space. Large paver patio, shed has an apartment sized stove and full-size refrigerator. Space for parking three vehicles in addition to your RV. Landscaped and located where you can enjoy the afternoon and evening sun.
Pictures available on request
$25,000
Betty Culbertson
baculbertson1@gmail.com
Jul 15/19