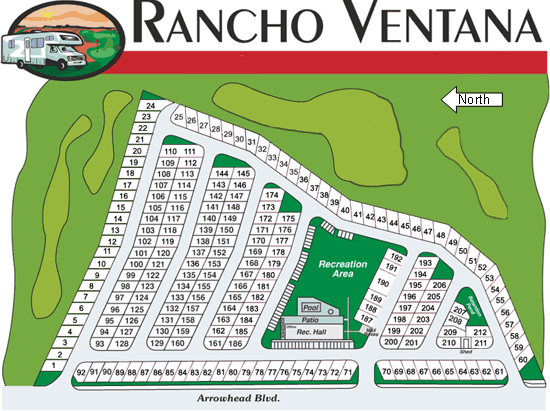 Lots For Sale
(Typical Lot sizes are 33' x 58')
If you would like to list your lot for sale, please download and complete the form below and email it to ranchoventanarv@gmail.com
Lot Sales Listing Form in MSWord
Lot Sales Listing Form in Adobe
All prices in US Dollars unless otherwise noted

Return to Home Page
Lot No.
Amenities
Price
Contact Info
Expires
34
Golf Course Lot along the 15th hole. Paver patio.
$19,500 OBO
Barry
780-476-2400 (H)
bnytchay@telus.net

Mar 31/18
94
1995 Park Model. Everything included. Patio Furniture, Barbeque, kitchen utensils and indoor furniture.
$65,000
Bob McAvoy
seagrave3@aol.com
510-2366259
Dec 22/17
6
2007 Cavco Park Model, on golf course, shed, screened patio
$60,000
Grant Meek
gsmeek@telus.net




604-820-8699
Jan 6/18
112
Very private, lot, close to golf course exit. Concrete pad, insulated shed, bar fridge, freezer and shelving
$35,000
Pat or Alex Fotheringham
paragonhawk@gmail.com
250-558-8840
Feb 8/17
120
Excellent lot, many improvements, cement patio, privacy fences, 8x12 shed, tiled, plumbed, insulated, sheeted, washer/dryer, cupboards, pantry and shelving. Best shady palm tree in park, great neighbors.
$22,500
Brian or Marian Zerr
(306) 699-7882
mzerr@yourlink.ca
Nov 18/17
107
Park Model. Turn key, ready to move in, close to golf exit gate
$70,000
Maryanne Denman




503-910-4935




pmdenm@aol.com
Jan 11/18